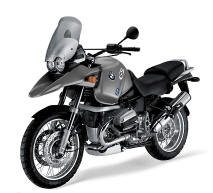 R1150GS
Model date:
12/2001
Couple of views
---
Kilometers:
When bought: 0km
Sold on 07/11/04: 70000km
---
Mecanical point of view:
This new engine is much more easier to use than the 1100 one, a bit like a four cylinder but with the twin touch and a giant torque.
The gear box with the six gear is ...long. The first gear is longer than for the 1100 and you have to be used to it avoid problem in city riding.
Then its ok. At 3000round/min in 6th gear you are at 100km/h and of course at 200km/h for the double rounds. All that in peace and w/o vibrating.
---
Service:
 By BMW
---
Tires:
The original Metzeler Tourance are not my cup of tea beacause they don't afford rough tarmac and gives a bad feeling. Did try the new ANAKEE from Michelin, They are not better than the T66X (exept on wet) but went out after just 8000km, same problem than Metzeler.None of those tire are able to keep good feeling for more the 8000km. I missed my old T66X.
---
Petrol:
Conso:
Normal riding 90-130km/h: 5,5 liters/100km
Oil:
Castrol RS or Motul 3100
Not much for a new boxer.
---
Options BMW:
RID (rider individual display)
Pannier Touring
Heated grip (THE need to have option!)
BMW crashcar
Other options:
Bagster tank set + bag
Givi Topcase 46L
Tripmaster Sigma
Tourateck GPS holder
HELLA F100 extra light
Handlebar-back from Wunderlich
Cee Bailey's screen
(www.ceebaileys.com)

---